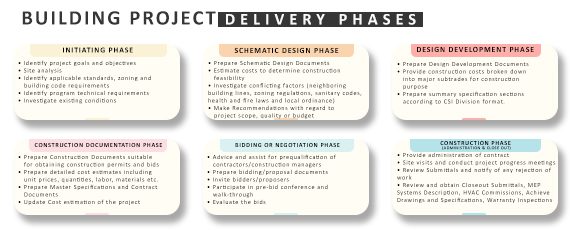 Building Project Delivery Phases
Creating a building is a lengthy process. However, breaking the project into various phases assists you to organize the projects efficiently and meet the client's expectations. The infographic gives a basic overview of the building project delivery phases which are essential to know. It allows you to schedule and plan the progress on the basis of these milestones. Sometimes these milestones or project phases are altered as per the needs of a particular project or contract. These phases are typically mentioned in the contract documents, but you might be wondering what they really mean and what you can hope to see at each stage.
Russell and Dawson Inc. has the expertise to assist you throughout the life cycle of your building projects. We are an integrated AEC firm with 50+ years of experience involving Architectural Design Services, Engineering and Design-Build Contractor Services for various verticals such as hotels, residential, commercial, healthcare, community and industrial across the northeastern region in the USA.