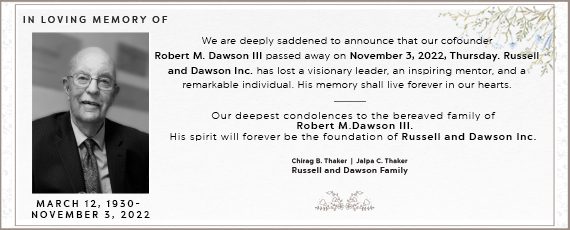 Robert M. Dawson III, cofounder of Russell and Dawson Inc., passed away on November 3, 2022, Thursday
R & D family has lost a visionary leader, an inspiring mentor, and a remarkable individual. His spirit will forever be the foundation of Russell and Dawson Inc.
Hartford, Connecticut, November 03 , 2022
Bob Dawson made numerous contributions to the AEC industry and was recently recognized by the Town of Ellington, CT with 2022 Wall of Honor for exceptional contributions made over the period of 67 years. He started loving the rural character of the Town of Ellington after settling down in the year 1955. Subsequently Bob started contributing to the Town for various community services by actively involving in more than 15 boards, agencies and committees. In brief timeframe, he was fairly indulged in the new community.
No words can adequately express our grief at this time and our gratitude for the opportunity to work with him. We shall dedicate ourselves to carrying on the work he so much loved in order to commemorate his memory.
We pray for the departed soul to find peace and for the family members to have the courage to endure this irreparable loss.
HERE ARE FEW CONTRIBUTIONS OF ROBERT DAWSON
Bob was member of Ellington Historical Society and worked on renovating the McKnight House into the Nellie McKnight Museum. He served Ellington Bicentennial Commission organizing celebrations in 1976 and 1986. Robert served Ellington with humility and zeal as members of numerous Boards and Committees, including the Hall Memorial Library Board of Directors, Jury Selection Committee, Ellington Historical Society, Ellington High School Building Committee, the Bicentennial Committee, the Zoning Board of Appeals, and the Design Review Board.
ABOUT RUSSELL AND DAWSON INC.
Russell and Dawson is a client-1st architectural design, engineering and construction services firm based out of Hartford, Connecticut. Since 1965, Russell and Dawson has completed more than 10,000 projects across various sectors in the northeast states. Read more about Russell and Dawson