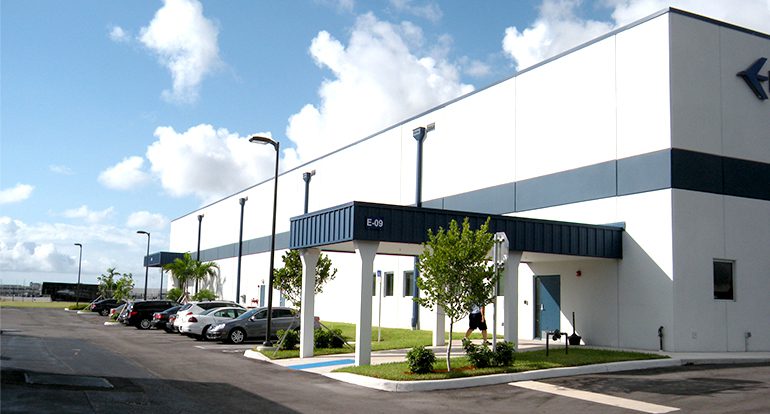 Project Details
Property Name : Embraer Office and Warehouse
Location : Fort Lauderdale, FL
Project Type: Full Engineering and Architectural Design Services
Year of Services Delivery: 2009
Area: 31,000 Sq. Ft.
Description
At the Fort Lauderdale/Hollywood International Airport, Russell and Dawson Inc designed this 31,000 square foot parts distribution warehouse with 2,200 square feet of offices for Embraer Aircraft Holdings, a midsize jet manufacturer and aircraft parts distributor. This facility acts as a parts distribution hub for the southeast United States and therefore includes easily accessible Loading docks. The exterior and colors of the facility were designed to harmonize with the surrounding complex.
The warehouse is constructed of tilt-up concrete wall panels and steel bar joists, metal deck, lightweight concrete deck and modified bituminous roofing. The concrete floor was coated with a special light reflective floor hardener to save on initial facility investments by minimizing light fixtures and provide a dense high strength surface with easy maintenance. As exterior doors of the fully air-conditioned warehouse are continually opened and closed, the project included quick recovery vinyl roll-up doors that open and close in 5 seconds for fast access which minimizes loss of air conditioning.
The project included master planning of the entire 15-acre site including the parts distribution warehouse, a new aircraft maintenance facility, vehicular site circulation, 340 parking spaces, etc.