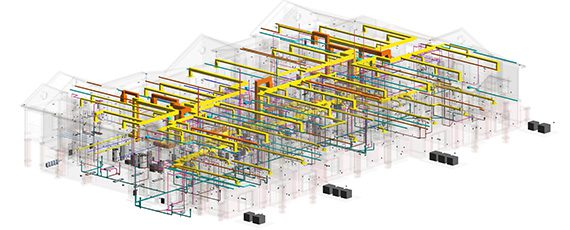 Roles and Responsibilities of MEP Engineer in Construction Projects

MEP Consulting Engineers are key contributors to any construction project. They look after the designing, planning and installation of Mechanical, Electrical and Plumbing networks in the construction project playing an active role.
The construction industry is so lucrative that it requires a lot of skills, precision and safety from the building professionals. Hiring a professional MEP Engineering Firm allows smooth and successful design of the project. The engineers specialize in their respective trades and are capable of implementing systems. Their work not only includes design and implementation of systems but also designing fire protection systems, building automation, energy consultation and sustainable building design. They act as a centralized source of information along with assisting audits of project workflow and specification. They also help in design, purchasing and installation decisions.
MEP Engineers are continuously working throughout the whole project life cycle bringing benefits to the project. They often assist in construction coordination and administration. An engineering firm with holistic process wherein there are experts for each trades brings higher efficiency, productivity and clearer communication. Below are some roles and responsibilities an MEP Engineers should possess;
Responsive Character
The MEP Advisor should provide a quick solution to your queries and doubts. A construction project required immediate solution because all the aspects in the building project are related to each other and one problem usually contributes to another. Therefore, the MEP engineer should be efficient at providing rapid feedback to the queries and help in faster movement of the construction process.
HVAC Expert
The core responsibility of an MEP engineer in a project development phase is the user comfort. So, it is a prerequisite that the MEP engineer for the projects holds extensive expertise in delivering effective, efficient, and environmentally friendly solutions to ensure a smooth outcome. HVAC is a crucial part of any building project; therefore, it is vital for MEP engineers to provide efficient heating, cooling and ventilation systems.
Lighting, Electric Power & Plumbing
Every construction is incomplete without adequate lighting connection and proper power supply. When it comes to electrical connections and lighting, the MEP consulting engineer has to go through every detail in a comprehensive manner to ensure that all the connections are safe and secure and positioned exactly where they should be. Lighting and electrification should be designed to enhance the aesthetic beauty of the project. It is also the responsibility of the MEP engineer to use connections that are energy efficient and reduces wastage. MEP engineers must be capable of ensuring the application of proper technology and the right materials in designing and installations of plumbing networks.
Fire Safety
A proper fire alarm is a critical aspect of fire safety. It provides additional safety cover over and above general fire safety measures. The MEP Consulting Services must ensure that the fire alarm systems meet the project requirements and standards set by the industry. This will ensure a robust safety mechanism for its occupants. Planning and installations of a fire alarm system is a complex process. It involves identifying the vulnerable and susceptible areas and installing robust fire alarm systems which are surely the first line of defense in case of any emergency.
Energy Management
Energy efficiency and management have become the most primary requirement for any engineering project. MEP Engineers should be updated with energy-efficient standards and provide solutions to projects depending upon their scale and requirement. This helps in conserving energy and reducing the cost of construction along with reducing the overall carbon footprint.
Communication
The success of a construction project depends on effective communication between every department of the firm for seamless transfer of data and project-related information. Another reason why communication plays an important role is it helps to identify issues in the initial stages itself. Seamless communication between the MEP engineer and the construction firm along with Architectural Design Firm ensures design and installations are in line with the concept and scope of the project.