"A good design is like an expectation. An outstanding design is like a timeless creation, but a sustainable design is for our smarter future".
 Changes in building styles just come and go. But, a sustainable design, breeds new styles and create new benchmarks.Modern day approach is based on the principles of social, economic, and ecological sustainability in anything we build.
We at Russell and Dawson firmly believe in our customer's dream. We leverage on our versatile and sustainable designing process to turn those dreams into reality. That's why we plan and execute our projects with the best sustainable practices -right from the initial review of the client's demands to the development of the project, our team ensures we comply with all international standards.
Elements of Green Building Design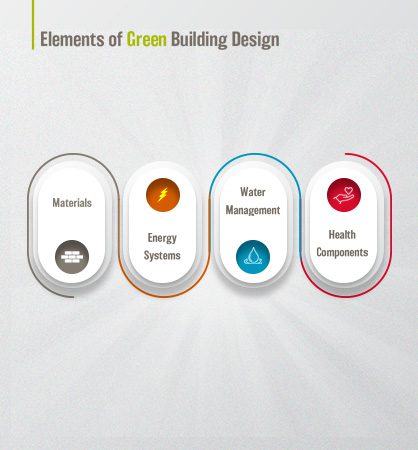 Materials: Sustainable product material promotes optimal utilization of resources while reducing environmental effects during their life cycle.
Energy: Passive design strategies such as solar design, building shape & orientation, and usage of natural lighting help in improving the building's energy performance.
Water: Effective use of water by installing on-sight mechanisms like rainwater harvesting and water-conserving fixtures help reducing wastage of resources and using it efficiently.
Health: Sustainable living via this design can be adopted by various practices such as monitoring  carbon dioxide levels, ventilation effectiveness, materials in the building, including provision for daylight.