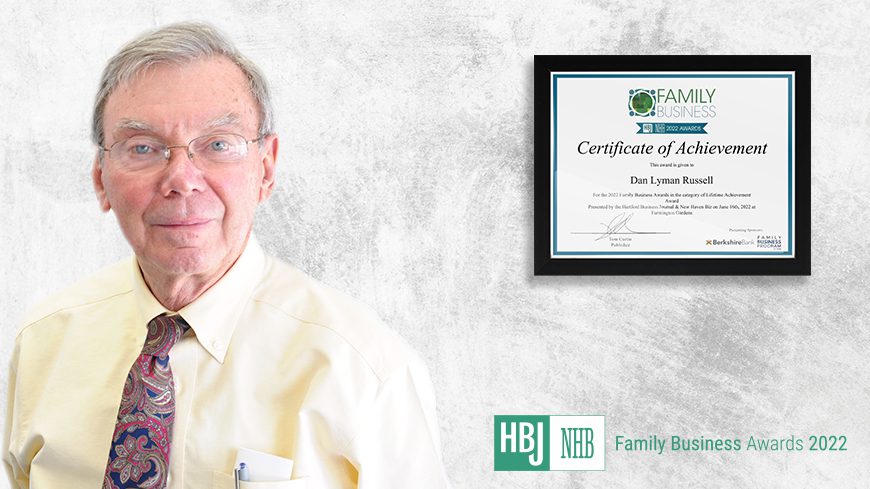 Hartford Business Journal recognizes Dan Russell, Co-founder of Russell and Dawson Inc
Dan Russell of Russell and Dawson Inc. Receives '2022 Lifetime Achievement Award' from Hartford Business Journal
Hartford, Connecticut, July 12, 2022
Hartford Business Journal (HBJ) has recognized Dan Lyman Russell, co-founder of Russell and Dawson Inc. and retiree, with the 2022 Family Business Lifetime Achievement Award for his contributions and achievements in the architecture and engineering sector in the state of Connecticut during an event organized by Hartford Business Journal held on June 16, 2022 at the Farmington Gardens.
HBJ hosted an award ceremony to recognize the outstanding achievements of state's some of the best family-owned companies and individuals under various categories. This annual Connecticut Family Business Awards program received over 40 nominations under various categories. This year's class of winners was chosen by independent panel of judges from UConn's Family Business Program and Klingberg Family Centers.
"We are very pleased and excited that Dan Russell is honored by the Hartford Business Journal for his work, dedication and contributions made over the period of 60 years. We would like to thank jury and Hartford Business Journal for recognizing Dan with the prestigious Lifetime Achievement Award." said Chirag Thaker, President of Russell and Dawson commenting on the award.
"We are glad to present Dan Russell with 2022 Family Business Lifetime Achievement Award. We recognized Dan's contributions not only to architecture and engineering sector in the state but also his philanthropic contributions including donations and fundraising activities to benefit the society at large" – said the editor Greg Bordonaro of HBJ.
Here are few achievements and contributions of Dan Russell:
As Director at Goodwin College Dan made several donations and organized fundraising activities for the scholarship of the students. He was involved in multiple community organizations like East Hartford Fine Arts Committee and the Historical Society of East Hartford.
Dan was a proud past president of East Hartford Art League where he taught Silk screen Techniques and conducted book binding workshops.
Dan was a Registrar and Past Moderator for United Church of Christ. He was associated with many Church associations and have given back to them in the form of pro bono professional services.
Dan was a Past President of Buckingham Congregational Church, Rotary Club of East Hartford and served on homeowner initiative advisory committee for the Town of East Hartford.
Here is a featured article about Dan Russell on Hartford Business Journal's website.
About Hartford Business Journal (https://www.hartfordbusiness.com)
The Hartford Business Journal is a growth-oriented business information company serving customers through multiple platforms across Greater Hartford and Connecticut. Hartford Business Journal is passionate about successful entrepreneurship and is the acknowledged leaders in catalyzing valued business connections for customers; both readers and advertisers.
Press release also available on PRWeb @ Press Release