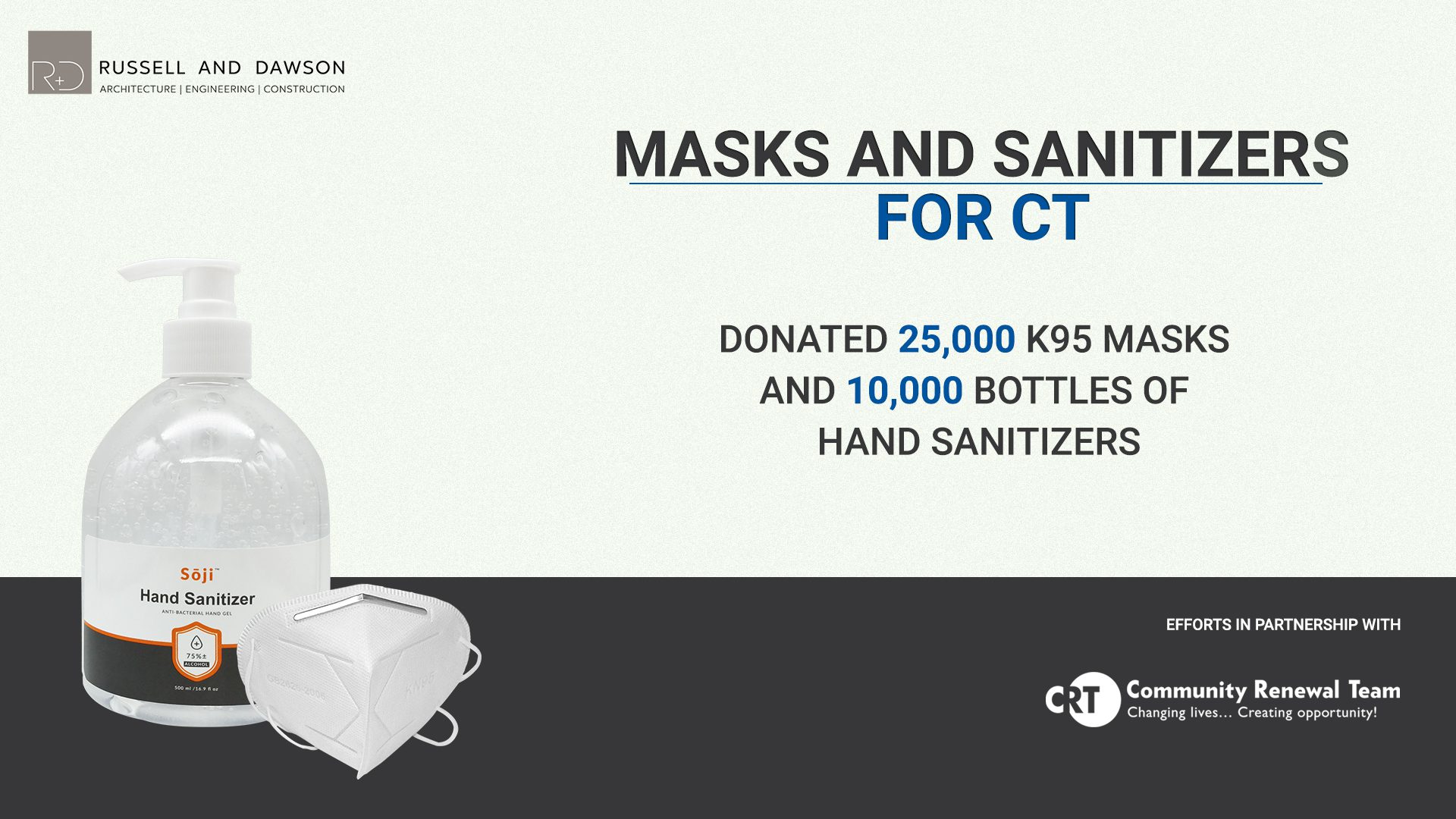 Supporting CRT Anti-Poverty Mission to aid people in Central Connecticut.
Efforts conducted in partnership with Community Renewal Team
East Hartford, Connecticut ; March 23, 2022
Russell and Dawson Inc. supports Community Renewal Team, Inc. Anti-poverty Mission to back the continued capacity of service to people in Central Connecticut
Russell and Dawson Inc. seldom miss an opportunity to carry out the noble acts of helping people. In addition to the corporate partnership, we take immense pride to partner with Community Renewal Team, Inc. to donate 25,000 K95 face masks, and 10,000 individual bottles of hand sanitizer, providing safety assurances to the staff and clients involved in any of the services that is available through CRT's broad range of programs. For several years, Russell and Dawson Inc. has partnered with CRT to support the agency's needs for architecture design, engineering, and construction.
We have overcome fear with facts before. We can do it again with some basic safety measures. As of March 23, 2022, an average of 303 cases per day were reported in Connecticut last week. Since the beginning of the pandemic, at least 1 in 5 residents have been infected with a total of 732,932 reported cases. We believe that when you wear a mask, you protect yourself, you protect others, you prevent yourself from touching your face. With coronavirus cases still rising, wearing a mask is more important than ever.
Community Renewal Team, Inc.:
The Community Renewal Team is dedicated to helping people take steps toward healthy and economically stable futures. Since 1963, our 501 (c) 3 nonprofit organization has partnered with local elected officials, providers, funders, businesses, and the community to address challenges like hunger, homelessness, unemployment, and poverty. CRT continues to help thousands of individuals every year. In 2020, CRT provided one or more services to 44,188 individuals from 20,981 families. For more information, please visit crtct.org.
Every day in the face of harsh conditions of living in poverty, the generosity of Corporations like Russell and Dawson Inc. ensures Community Renewal Team can achieve our mission of – "Preparing Our Community to Meet Life's Challenges". We are extremely grateful for these contributions because it enables us to reach Connecticut's most vulnerable, low-income population
Russell and Dawson, Inc. :
Russell and Dawson Inc. is a client-1st architectural, engineering and construction firm based out of Hartford, Connecticut. Since 1965, Russell and Dawson has created more than 100 million square feet of space with trust and creativity through the execution of more than 10,000 projects across various sectors. Our true purpose is to build the future with a technological edge while staying committed to our belief of keeping every client happy and satisfied.
Great corporations know that giving back to the community boosts employee morale and fosters pride within the company. We consider ourselves very fortunate that we got an opportunity to help the community in times of need