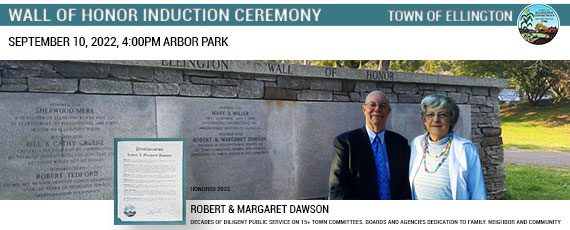 Town of Ellington, Connecticut recognizes Robert Dawson and Margaret Dawson with 2022 Wall of Honor
The Wall of Honor recognition is for exceptional contributions made to Town of Ellington
Hartford, Connecticut, September 08, 2022
Town of Ellington, CT has honored Robert Dawson, co-founder of Russell and Dawson Inc. and his wife Margaret Dawson with 2022 Wall of Honor for their exceptional contributions made over the period of 65 years. The Wall of Honor, located in Arbor Park (off Main Street), is used to recognize deserving citizens for exceptional contributions to the Town of Ellington. Both names of Robert
Dawson and Margaret Dawson will be engraved on the Wall of Honor and unveiled at a public ceremony on September 10 at 4 p.m., just prior to the fire department's parade.
First Selectman Spielman shared, "Even today in his 90s, Robert never stops working; you can always rely on him, and growing up, I remember Margaret being involved in so many things, helping so many people. You could always find them enjoying a quick bite at the Chuck Wagon or spending time around Town."
The couple started loving the rural character of the Town of Ellington after settling down in the year 1955. Subsequently the couple started contributing to the Town for various community services by actively involving in more than 15 boards, agencies and committees. In brief timeframe, both were fairly indulged in the new community. Majority of the Town activities and services were carried out jointly by both of them.
They were members of Ellington Historical Society and worked on renovating the McKnight House into the Nellie McKnight Museum. Margaret planned annual holiday receptions at the McKnight House and in outfitting the Historical Society's Fife and Drum Corps. They served Ellington Bicentennial Commission organizing celebrations in 1976 and 1986.
Here are few contributions of Robert Dawson and Margaret Dawson towards the Town:
Robert and Margaret Dawson served Ellington with humility and zeal as members of numerous Boards and Committees, including the Hall Memorial Library Board of Directors, Jury Selection Committee, Ellington Historical Society, Ellington High School Building Committee, the Bicentennial Committee, the Zoning Board of Appeals, and the Design Review Board, of which Bob still serves as Chairman
About Russell and Dawson Inc.
Russell and Dawson is a client-1st architectural design, engineering and construction services firm based out of Hartford, Connecticut. Since 1965, Russell and Dawson has completed more than 10,000 projects across various sectors in the northeast states. Read more about Russell And Dawson