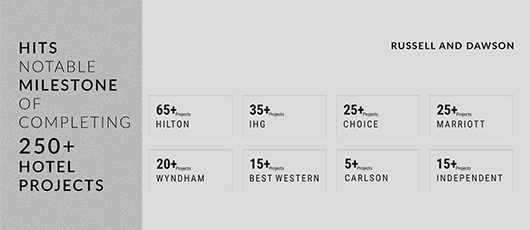 Completed 250+ Hospitality Projects providing Architecture and Engineering Design Services
Our advanced approach to create bespoke designs for our clients, their guests and communities have made us a leading Hotel Design Firm in North America
November 11, 2021, East Hartford, Connecticut
Russell and Dawson is one of the leading Hotel Design Firm in the new England region providing Planning, Architectural Design Services, Engineering (Structural, MEPFS, HVAC), Interior Design and Construction services.
We have recently reached the mark of completing 250+ hospitality projects with Hampton Inn, Keene, NH, and Residence Inn by Marriott, Hamden, CT being under construction. Our hospitality projects primarily include hotels, motels, restaurants, and cafes with complete turnkey capability. Russell and Dawson has worked with hotel developers & owners to create and construct extraordinary properties for the New Development, Conversion, Adaptive Re-Use, Renovation and Remodeling projects for established brands such as IHG, Marriott, Hilton, Choice Hotels, Carlson Group, Best Western, Hyatt, and independent hotel brands in the northeast region of the USA.
What sets us apart is our commitment to execute cost-effective and budgeted Hotel Remodels, Retrofits, Renovation, & Brand Transformations for some of the leading hotel brands in North America. The interior spaces we create leave a lifelong impression and beckon guests to return. Our hotel design-build experience ranges from mid-scale to upscale to luxury as per the hotel brand design standard. We focus on creating experiences that exceed guests' experiences. We have grown to be a design-build firm by integrating Hotel Design Architecture, Engineering, and Construction services.
We are proud to accomplish the below number of projects for the reputed brands:
65+ Projects of Hilton brands,
25+ Projects of various brands of Choice Hotels,
25+ Projects of Marriott brands,
20+ Projects of Wyndham Hotel Group,
15+ Projects of Best Western,
5+   Projects of Carlson Group and
15+ Independent Hotel Projects.
Some recent hospitality projects by Russell and Dawson includes:
Hampton Inn, Keene, NH–New construction of hotel 64,000 SQFT, 4-Story, 100 Rooms
Residence Inn by Marriott, Hamden, CT–New construction of hotel 88,797 SQFT, 4-Story, 127 Rooms
"We have mastered the design process for hospitality projects keeping the 5 C's in mind which are Comfort, convenience, connectivity, Community, and cool. We believe our designs reflect the authenticity of the place by creating unique and unforgettable experiences," said Chirag B. Thaker, President, Russell and Dawson.