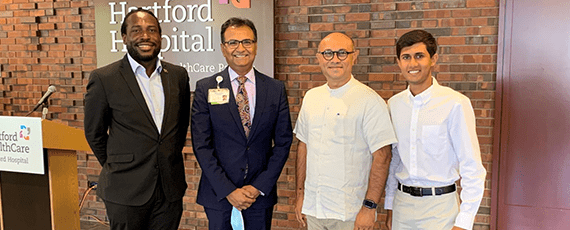 Russell and Dawson Inc. and AORBIS Inc. Donate PPE Supplies to Jamaican Health System through Collaboration with Hartford HealthCare
Donation includes US$550,000 worth PPE supplies to alleviate needs of PPE kits on the Jamaican island
Hartford, Connecticut, September 08, 2022
Russell and Dawson Inc., an A/E/C firm and AORBIS Inc., the supplier of building products donated more than US$550,000 worth PPE supplies to Jamaican Health System through collaboration with Hartford HealthCare. The donation includes KN-95 masks, 3-ply masks, gloves, gowns and hand sanitizer — items which are still in great need in Jamaica.
Hartford HealthCare has forged a strong partnership with the Jamaican Health System since the start of the pandemic by facilitating donation of equipment & supplies and exchange of technology and information. "We shared the need of PPE supplies with local businesses, we are so grateful to leadership of Chirag Thaker & Jalpa Thaker in making this donation to Jamaican Healthcare System," said Bimal Patel, President of Hartford Hospital and Senior Vice President, Hartford HealthCare.
"With the on-going pandemic, we were looking to donate PPE kits where they would be most valuable and useful. After learning about this excellent opportunity from Keith Grant, Sr. System Director for Infection Prevention at Hartford Healthcare, we decided to support the Jamaican Health System by making a contribution for the benefit of an island" said Chirag Thaker, President, Russell and Dawson Inc. and AORBIS Inc.
Chris Benjamin, Community Relations Officer for the Jamaican Consulate in New York City said "This donation will go a long way in alleviating the difficulties we are still having in Jamaica because of the pandemic. These PPE will be distributed to several hospitals on the island. It will help ensure there is an adequate supply of PPE, especially in the areas of greatest need,"
Here are few community involvements of Russell and Dawson Inc. and AORBIS Inc.
Russell and Dawson Inc. and AORBIS Inc. donated 25,000 K95 masks and 10,000 hand sanitizers to Community Renewal Team Inc., Anti-Poverty mission to aid people in Central Connecticut.
Russell and Dawson Inc. provided Pro-Bono Structural Design Services for Growing Spaces Growing Dome®, a greenhouse project for Community Child Guidance Clinic (CCGC).
Russell and Dawson Inc. has offered architectural design services either pro-bono or at minimal rates to more than 15 Animal Shelter Projects, 70 Worship Places (Churches, Temples, Mosques), 5 local Community Centers (Christian, Jewish, Islamic)
About Russell and Dawson Inc.
Russell and Dawson is a client-1st architectural design, engineering and construction services firm based out of Hartford, Connecticut. Since 1965, Russell and Dawson has completed more than 10,000 projects across various sectors in the northeast states. Read more about Russell And Dawson
About AORBIS Inc.
Established in the year 2018, AORBIS Procures Building Products, Materials, and Services for Owners, and General Contractors in the United States. Read more about AORBIS INC.
About Hartford HealthCare
With 33,000 colleagues, Hartford HealthCare's unified culture enhances access, affordability, equity and expertise. Its care-delivery system — with more than 400 locations serving 185 towns and cities — includes two tertiary-level teaching hospitals, an acute-care community teaching hospital, an acute-care hospital and trauma center, three community hospitals, a behavioral health network, a multispecialty physician group, a clinical care organization, a regional home care system, an array of senior care services, a mobile neighborhood health program and a comprehensive physical therapy and rehabilitation network. On average, Hartford HealthCare touches more than 17,000 lives every single day. The unique, system-wide Institute Model offers a unified high standard of care in crucial specialties at hospital and ambulatory sites across Connecticut offering unparalleled expertise at the most affordable cost. The institutes include: Cancer, Heart and Vascular, Ayer Neuroscience, Orthopedics and Tallwood Urology. Visit Hartford HealthCare at www.HartfordHealthCare.org and stay connected through newsletters and social media. Read more about Hartford Healthcare
Press release also available on PRWeb @ Press Release